What happens when you bolt a supercharger to a GM 6.0L forged lower end, build the trans, lower the suspension and do a few extra tweaks to it.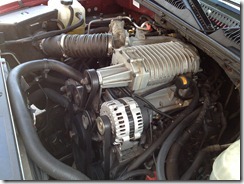 650 HP plus and hang on when you step her down.
This is a really nice truck that we have serviced for years and were apart of the building of the engine, today its in for a really strange lean fuel control issue that ended up being related to a failing rear o2 sensor problem. Problem solved, now she runs really nice again. Next issue on the list is the high stall converter not locking up properly, got to love those performance upgrade bugs.